TLC 2012 White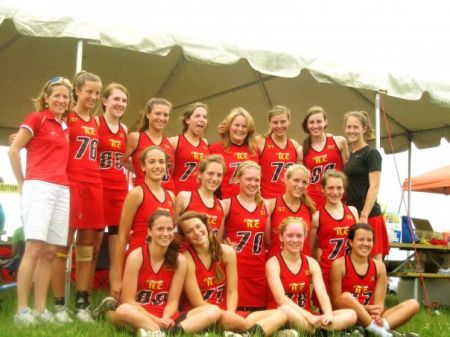 Coaches:

Four year lacrosse player for the University of Virginia Kathleen Gavin assists in coaching the 2012 team. In 1983 Kathleen earned the MVP award at UVA. Kathleen graduated from St. Paul's School for Girls (SPSG) in 1979 where she played varsity lacrosse, hockey, and basketball. She now works as an attorney and pursues volunteer activities such as past board member at SPSG, coach for Towsontowne Rec, and class parent. She enjoys running 10ks, crew, and tennis when time allows.

Mike Farrell, TLC founder, Director and Board Member, has a hand in coaching all the TLC teams and players from our youngest, newest players to our graduating, recruitable class. Mike was a defenseman at Calvert Hall High School where he was a member of the MSA Championship teams of 1971 and 1972, earning high school All-American honors in 1972. At the University of Maryland, Mike played in the NCAA Lacrosse Championships in all four years of his collegiate career, winning the championship in 1973 and 1975. He earned First-Team All-American honors in 1974 and 1975. He was a member of the ACC championship teams of 1973 and 1976. Mike received the William C. Schmeisser Award as the nation's best defenseman in 1976 and Maryland's Edwin E. Powell Award for great service to the game of lacrosse in 1976. He was also captain for the south team in the 1976 North/South Collegiate All-Star game. Mike played for the Maryland Lacrosse Club for 1979-82, winning the club championship in 1979 and 1982. He has continued his contribution to the sport of lacrosse as a coach at the recreational level.

Blake Sheehan is an Associate Portfolio Manager and Principal at Brown Advisory and a co-founder of CRC Lacrosse. At Brown Advisory, she works with families and institutions on asset allocation and strategic planning. She also supervises a multi-office summer analyst program with interns in seven offices across the U.S. and Europe. Prior to starting CRC, Blake coached for TLC Lacrosse for 12 years. She was a three-time Big East Academic All Star and three-time NCAA Tournament participant during her lacrosse career at Georgetown where she majored in finance and international business. Outside of work, Blake has been recognized as a Living Classrooms Rising Star and also participated in the Business Volunteers of Maryland GIVE program for rising civic leaders. She remains active in the community as an alumni interviewer at Georgetown, a mentor at the Crossroads Middle School, a Gala Executive Committee member at Mount Washington Pediatric Hospital, and a founding board member of Harlem Lacrosse and Leadership in Baltimore.